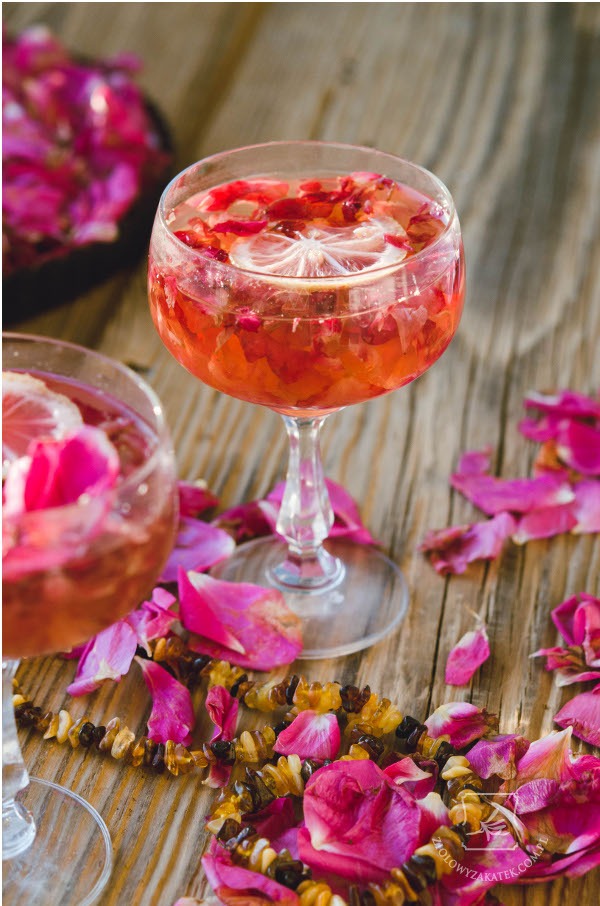 Good morning,
Today I'd love to share with you a bit decadent recipe – champagne (or sparkling wine) and rose petals jelly.
It is a really nice and spectacular recipe – I had a lot of rose petals (see also: a rose petals ice cream) so this is why I decided to do something crazy!
If you are intrigued how to do the jelly and how it tastes like, be my guest!
I made this jelly using recipe from a book Purple Citrus & Sweet Perfume
– it is full of unusual and refreshing taste combinations. Thanks to this book I prepared eg. a rose petals ice cream and a tomato and pomegranate salad.
How does rose petals jelly taste like?
Let's be honest – it tastes like rose petals. If you love it – you will love the recipe. If not – well, it can be too much for you. But, have no fear – this recipe is a nice base for other flowery jellies – lavender jelly should be nice as well.
If I had made this jelly once again I would use smaller rose petals pieces or mash them in a mortar – but then I'd add more sugar, as rose petals has a tendency to become bitter due to mashing.
I don't mind eating whole rose petals but my partner suggested that he would like smaller pieces more – so do as you prefer :-)
A word about color – the jelly has beautiful,red, deep color – it is because I added some mashed petals to the mixture and I used home-made rose petal syrup as well. If you use only petals – taste still will be fine, but the jelly would have very delicate, rosy hue.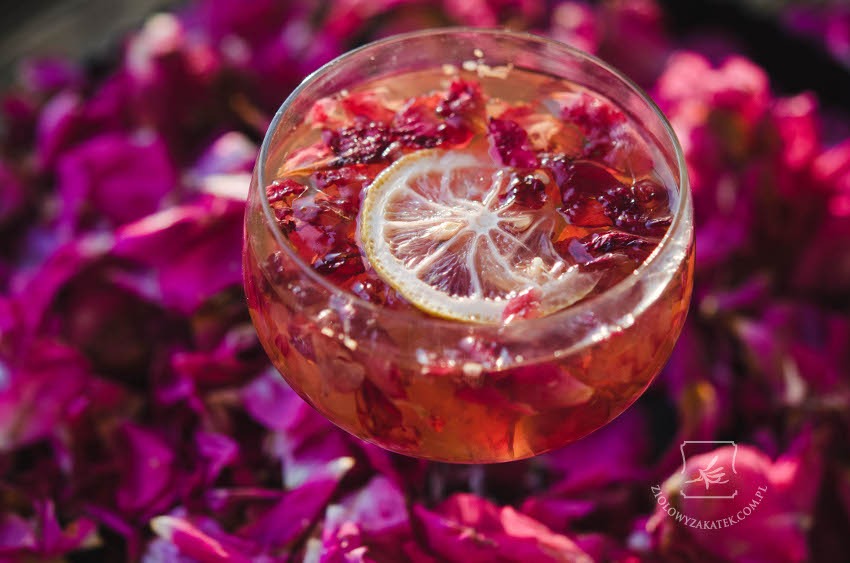 Champagne and rose petals jelly – recipe.

Modified recipe from : Purple Citrus & Sweet Perfume
Before you begin: please, please, use organic roses! Although all roses are edible, damascus rose would be the best for this recipe.
You will need (I made it from half of ingredients)

a cup of rose petals
100g of sugar or enough to cover rose petals
zest from one lemon (preferably organic)
3 gelatin leaves
75 g of sugar (I used cane sugar )
500 ml water
250 ml (a cup) of sparkling wine, I used cava
teaspoon of lemon juice (optional but recommended)
kubek płatków róży (najlepiej pachnącej róży damasceńskiej)
How to do rose petals jelly.
Wash petals with cool water. Put it into a small bowl, sprinkle with 100 g sugar, add lemon zest and mix througfully with your fingers. Put aside for about 2 hours – within this time petals will become most. After 2 hours mash petals with your fingers in order to incorporate sugars into the petals.
Soak the gelatin. In a meantime heat water and sugar in a pot – wait till sugar dissolves and cook for another 5 minutes over a medium heat. Add gelatin into a hot but not boiling mixture. Remove from heat – when it cools a bit add wine and lemon juice. Pour into glasses and when it reaches the room temperature put the jelly into your fridge in order to set.
That's it, enjoy!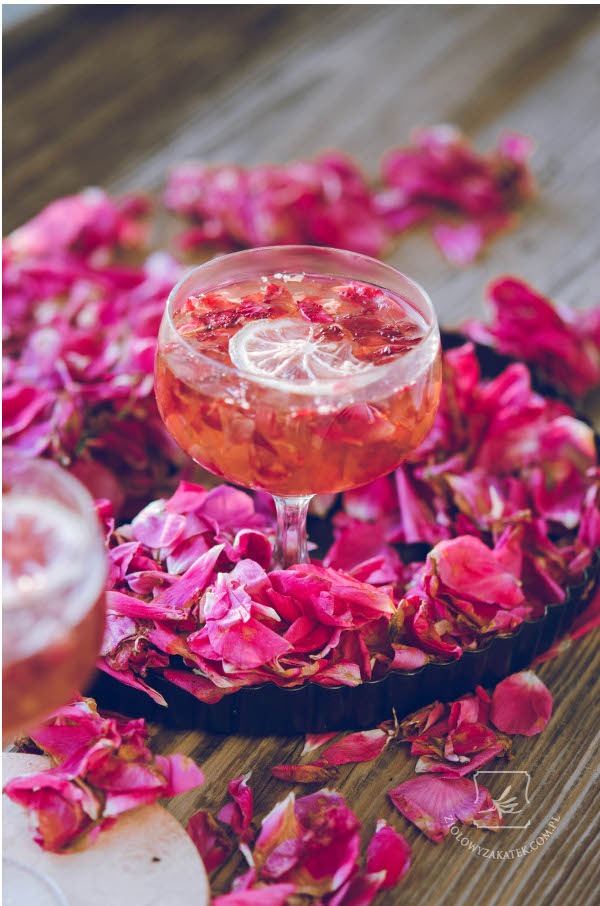 Roses and this jelly remidns me this retro-song whis I used to listen as a teenager…

What do you thing about this jelly? Would you like to try some?:-)